Swingsets & Playsets
Swingsets and playsystems are available in Pine / Cedar / Redwood. Some of our more popular models are pictured below. These gym sets are a fantastic addition to any backyard. The Barnyard has 2 convenient locations in Cockeysville MD & Gettysburg PA and delivery is available throughout Baltimore City MD, Baltimore County, Harford County, Frederick County, Carroll County, Howard County, Anne Arundel County Maryland, York County PA and Adams County Pennsylvania.
Wood Swing Sets come in a variety of styles and can include all the options kids love, such as:
Swings – Regular and Lawn Swing
Baby Swing
Canvas Covered Playhouses
Tower Tunnels
Ramps
Trapeze
Fireman's Pole
Tube Slide
Scoop Slide
Wave Slide
Rock Climbing Wall
Sandbox / Sand Box Cover
Monkey Bars
Picnic Table
Knotted Rope
Wide Rope Ladder
Wobbly Bridge
Glider
Buoy Game
Hammock
Plastic Glider
Steering Wheel
Telescope
Periscope
Basketball Game
Tic Tac Toe Game
Stairs
Playhouse with Windows
Tire Swing
Cargo Net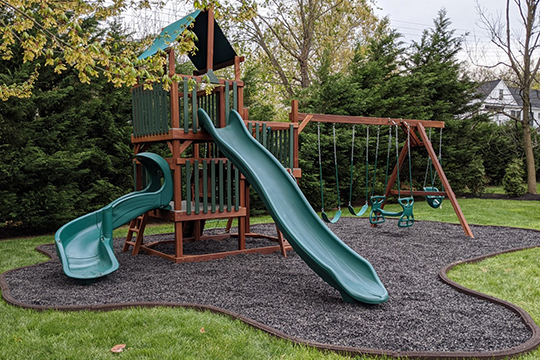 Wood Swingsets Include Important Safety Features:
#1 grade material, non-toxic pressure-treated yellow pine which cannot harm children
All exposed wood surfaces are planed smooth, and corners are rounded to prevent splinters
All metal is powder-coated for long lasting and durable finish
Swing seats come with heavy-duty chains coated with rubber grips. No pinched fingers!
We use composite decking on all exposed floors on decks and playhouses
A number of children can play at the same time, and will not tip your playset over
Our playsets are built by experienced craftsmen who always keep your children's safety in mind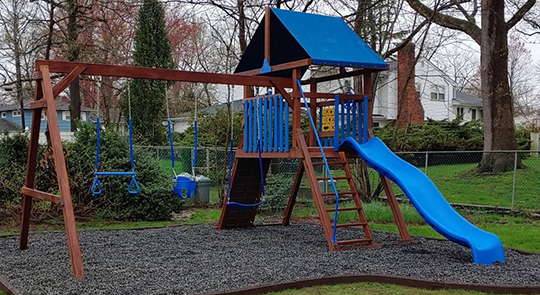 Vinyl Swing Sets & Playhouses by Backyard Playstations

Children love to play. They love to run, climb, slide, jump and swing. Nobody knows that better than Backyard Playstations. We create swings, gymsets and playhouses to fit the needs of any child and every family, with custom designs and features. With so many accessories and designs to choose from, your playstation can be created by you, for you, or simply pick one of the models in the catalog. Check out pages 30-31 to view our customized options.

Backyard Playstations has been making back yards more fun for more than 20 years as a family business. Our work is marked by exceptional quality and workmanship. The structural timbers used in our sets are quality selected from exterior-use pine and covered with a vinyl sleeve. Hardware is plated to resist rusting, and swing bearings are made of nylon for a long, "quiet" life. Also, sliding boards are made of durable plastic for safety, comfort and quality.

Backyard Playstations' swingsets and playhouses are not only built of quality materials, but they are built well. Wider bases prevent units from tipping over, and each set is engineered and built with your child's safety in mind.

Other great playground equipment includes wooden playground boats, wooden playground castles, wooden trucks, jeeps, tractors and wagons.